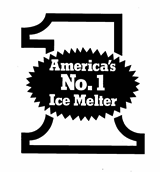 Propellant-49 features 36 hour continuous environment friendly melting with no residue - eliminates icy winters and shoveling forever .
Propellant 49 credit card orders
Shipping and tax are added to prices shown
1. Using your keyboard, fill out the below order form. 
2. Then print, sign and Fax  this form to the number shown above.
(This form may print out in several pages.)
Shipping address (if different from billing address)
Select one of the following Specials
OR
Select one of the following Quantity Discount Specials
Pace Products Inc. states that the Propellant-49 shipped on this order will meet the highest standards for an Ice and Snow control product and guarantees it to remain storage safe for 2 years from date of shipment.* Any stored Propellant-49 not useable under the terms of this unconditional guarantee will be replaced No Charge to the purchaser, F.O.B. Kansas City or nearest warehouse.
        Mike McIntosh,  President
All orders are F.O.B. shipping point - freight added
This is a non-cancelable order subject to acceptance
Authorized Buyer's Signature
Authorized Buyer's Printed or typed Name and Title
Please use your Browser's Print button to print the completed form.
Sign it in the Authorized Buyers box and Fax or e-mail to:
FAX:   410-654-0513
Voice: 410-654-6793
Seven 100 lb. drums PROPELLANT-49 - $804.44
Your Bonus: Three 100 lb. drums Free
(Bonus Value $344.76)
Fourteen 50 lb. drums PROPELLANT-49 - $986.44
Your Bonus: Six 50 lb. drums Free
(Bonus Value: $422.76.)
Twenty Five 100 lb. drums PROPELLANT-49 -
$2,873.00
Your Bonus: Fifteen 100 lb. drums Free
(Bonus Value: $1,723.80)
Fifty 50 lb. drums Propellant-49 -
$3,523.00
Your Bonus: Thirty 50 lb. drums Free
(Bonus Value $2,113.80)
Three 100 lb drums Propellant-49 - $344.96
Your Bonus: One 100 lb. drum Free
(Bonus Value $114.92)
Six 50 lb. drums PROPELLANT-49 -
$422.76
Your Bonus: Two 50 lb. drums Free
(Bonus Value $140.92)
Thirteen 100 lb. drums PROPELLANT-49 - $1,493.86
Your Bonus: seven 100 lb. drums Free
(Bonus Value: $804.44)
Twenty Six 50 lb. drums Propellant-49 - Total $1,831.96
Your Bonus: Fourteen 50 lb. drums Free
(Bonus Value $986.44)
Name as it appears on credit card
MANUALLY Add the CWV (3-digit code on the back of your credit card here: